Town of Paoli National Register Historic District

---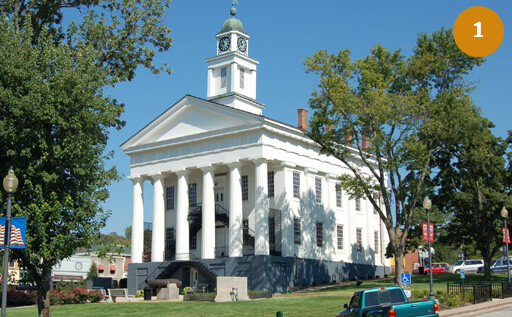 1850 Greek Revival
Built by local craftsmen, Orange County's Greek Revival courthouse is one of the two oldest in continuous use in Indiana. It was listed on the National Register of Historic Places in 1975.
---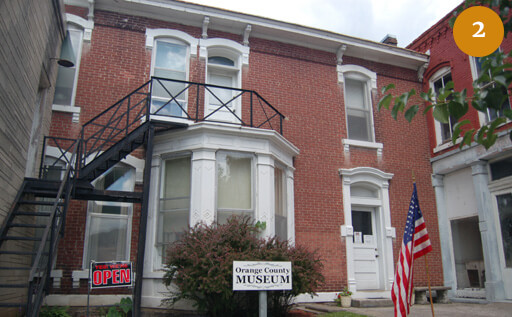 1890 Italianate
A century ago, there were several private residences on the town square. Dr. James Sherrod's residence remains. Now, it is the home of Orange County Historical Society's museum. The adjacent building, bearing Sherrod's name, was his family's pharmacy business.
---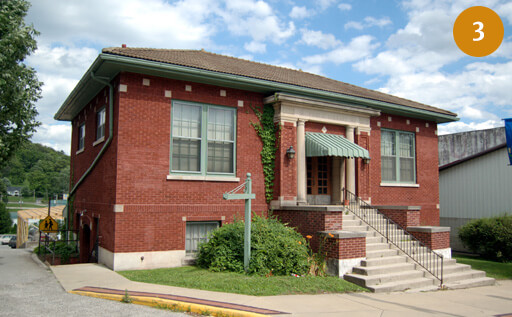 1918 Craftsman
Tri Kappa Sorority established the first library in rental space in 1913. Carnegie funds built the public library in 1918. It served over 90 years until space constraints prompted a new library be erected where the old Orange County Jail was razed.
---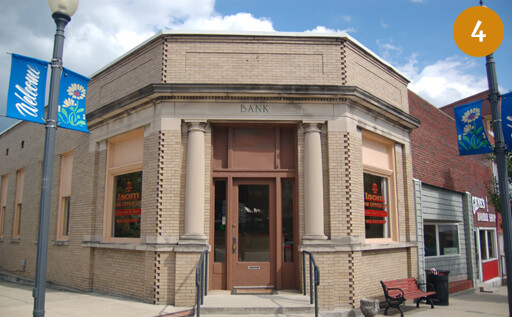 1900 Neoclassical
The former Paoli State Bank closed after the Crash of '29. While closing the books one day, the bookeeping staff faced a robber,who was not convinced the money was gone, and forced them to donate $20 from their pockets before he went on his way.
---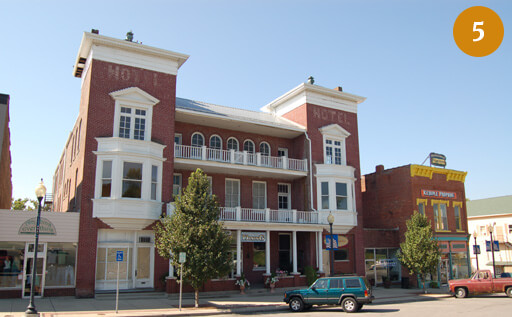 1895 Classical Revival
600,000 bricks produced in Paoli created the Mineral Springs Hotel in 1896. Paoli had no electricity. Hotel owners added a power plant in the basement, assuring guest rooms were lighted and sold excess power to homes and businesses.
---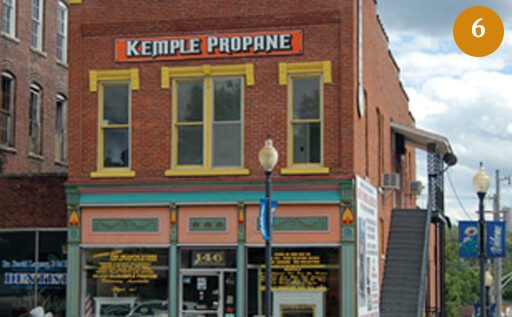 1890 Italianate
Erected by George W. Thomas for his hardware and furniture business, the Italianate front features iron columns from Mesker Ironworks in Evansville.
---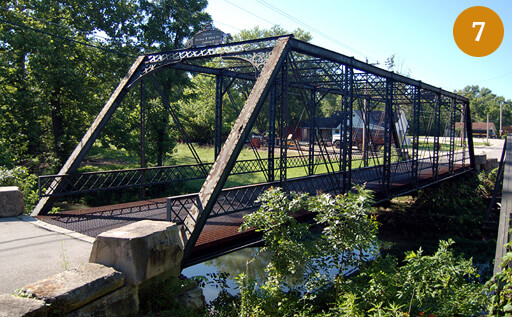 1880 Pratt Though Truss Iron Bridge
Constructed in 1880 by the Cleveland, Ohio, Bridge and Ironworks Company, it was the state highway route over Lick Creek until the 1950s. Alongside is a very rare, bowstring-arch truss bridge for pedestrians.
One of 20 historic bridges in Orange County.
---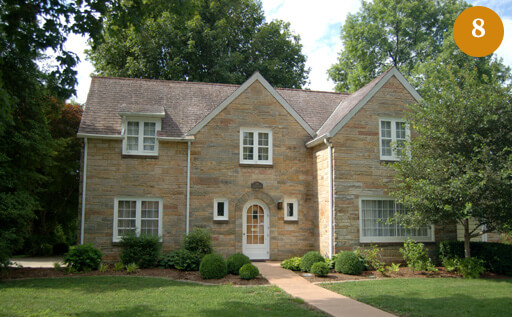 1940 French Eclectic
Rural mail carrier, Dutch McIntosh and his wife, Stella, built this Indiana sandstone house before WW II. It is the only French Eclectic-style home in Paoli and one of two in the historic district with a slate roof.
---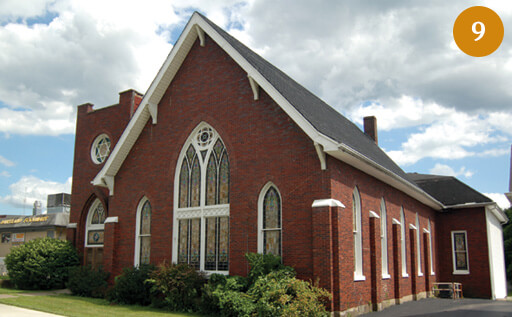 1881 Gothic Revival.
The 1881stick-built Methodist church underwent upgrading in 1923. New leaded glass windows were installed. The exterior was faced with brick and a gymnasium, providing space for community basketball games, was added to the rear.
---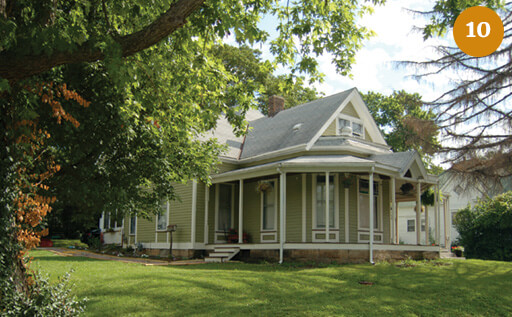 1900 T-plan Victorian
This was the home of Adolphus and Isabelle Braxtan. He was a Civil War veteran and owned a farm east of town. Ponies and a fancy cart, kept in a shed behind the house, offered turn of the century transportation around town and to the farm. A few years after Adolphus' death, Belle married the widower up the street, John T. Stout. He was president of Orange County Bank. The lot adjacent the rear of the Braxtan home was formerly the site of the local AME church.
---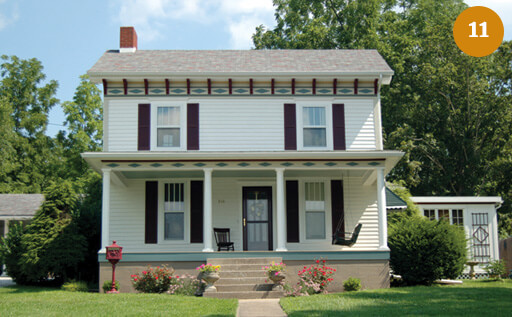 1819 I-House
Built by 1819 by Dr. Peleg Allen, this is one of the Paoli's oldest and had several owners before Andrew Jackson Rhodes, back from the Civil War, made it his home. Rhodes owned a livery which operated the stagecoach between Paoli and New Albany.
---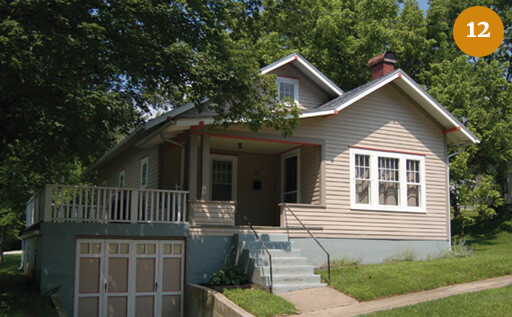 1920 California Bungalow
A modest California Bungalow with Craftsman traits, this was the long-time home of Arthur and Alice Wilson. He was an educator, who served as superintendent of the rural county schools. The interior of the home is little changed since built.
---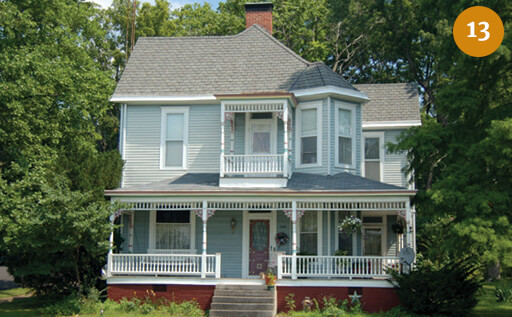 1899 Stick & Shingle
Ruth, the granddaughter of Quaker setter, Jonathan Lindley, and husband, Ben Lingle, move an 1831 house (home behind) back to build this 1899 Victorian. Early snowbirds, the Lingle's rode the train to winter near their citrus groves in Florida and California.
---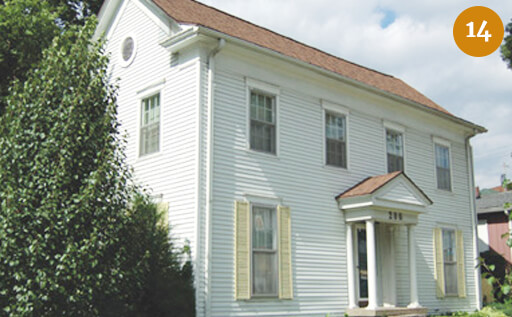 1860 Greek Revival
German immigrant and cobbler, William Hoppe lived here. Known to imbibe and hide perhaps with his bottle in a roll of leather at his shop, he'd poke his head out to deter customers with,"Hoppe not here. Hoppe gone to Mitchell." "Hoppe not here" became a local catch-phrase.
---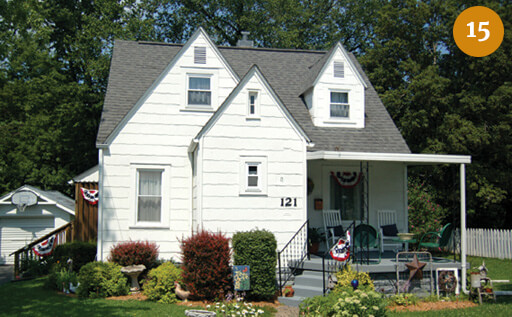 1930 English Cottage
Reminiscent of English cottage style with a pair of steep front gables, this home was built for Paoli businessman Leland Magner and his wife, Betty.
---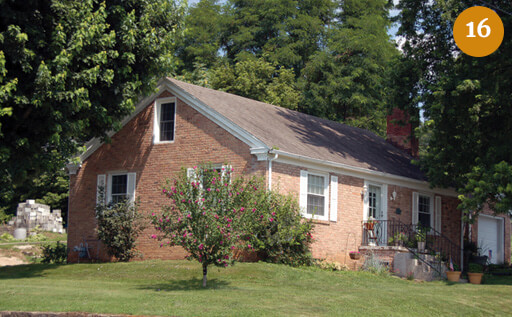 1940 Ranch Style
Home styles in Paoli were changing when electrician and town board member, Fred Lashbrook and wife, Hazel built this brick ranch-style home in the 1940s. It is one of the few brick residences in the Paoli Historic District.
---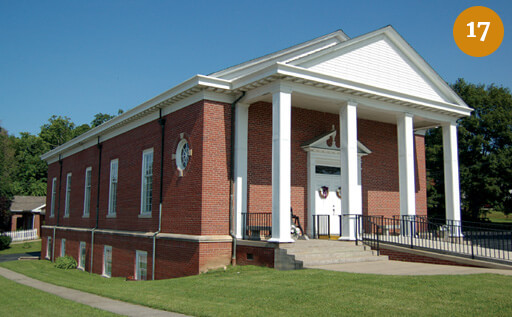 1950 Neoclassical Church
Quakers settled Paoli, but their meeting houses were in rural areas. In 1893 a meeting was founded in town. This Classic Revival was built after the original church burned in 1950. The old church bell is displayed on the portico.
---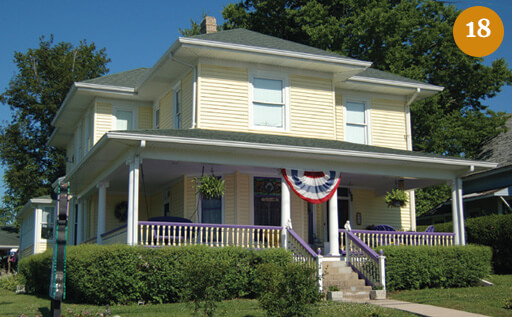 1868 Free Classic
Local building contractor, Charles Ham, purchased a one-story house, but his growing family, necessitated a second story and a wing across the back. The 1910 Free Classic he designed gave them space and was good advertising for his business.
---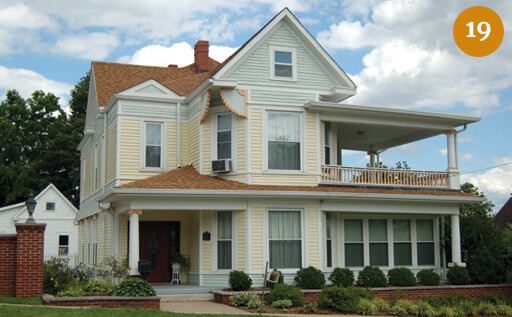 1898 Queen Anne Victorian
Believed to have been built by Judge William Farrell, attorneys have had an affection for this 1890s Queen Anne. Over the years it also has been home to attorney Perry McCart, and two circuit court judges.
---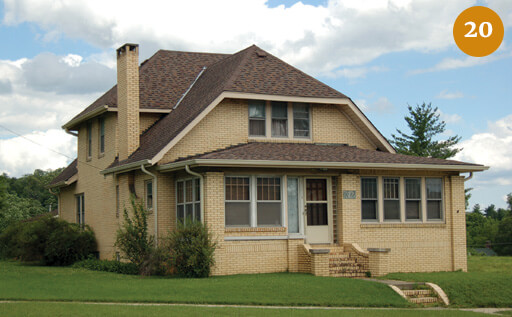 1930 Western Bungalow
Jesse Trinkle, Paoli Postmaster, built this yellow brick in 1930. Current owners have the architect's original drawings. Mr. Trinkle may have had some say in post office construction. Note that the postmaster's home and the post office are both yellow brick structures.
---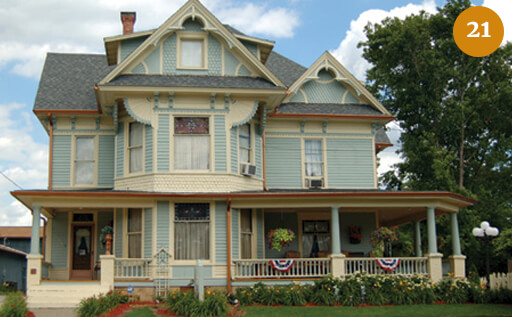 1893 Queen Anne Victorian
Thomas Braxtan served two terms in the Indiana General Assembly and owned mercantile, whetstone and livestock business, but the fast horses of his livery may be why he was held hostage briefly by Confederate raiders seeking fresh steeds.
---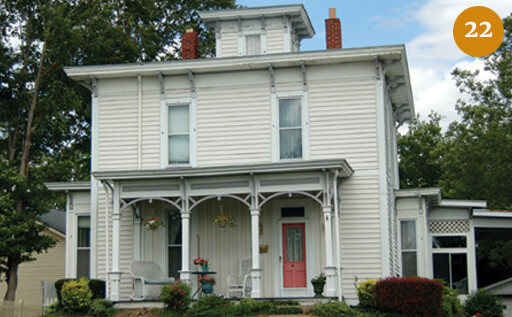 1870 Italianate
Paoli's only Italianate home with a cupola, the residence of John and Hannah Patton was handed down to a daughter, Nannie, who married the boy next door, Frank Braxtan. Frank and Nannie's daughter, Louise, inherited the home next.
---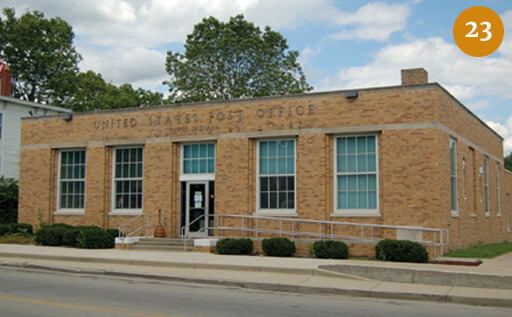 1937 Depression Modern
Paoli Post Office, constructed in 1937, contains an interior mural painted by artist Tom Rost. Later, Rost became a noted wildlife artist and contributed four front covers to Field & Stream magazine.
---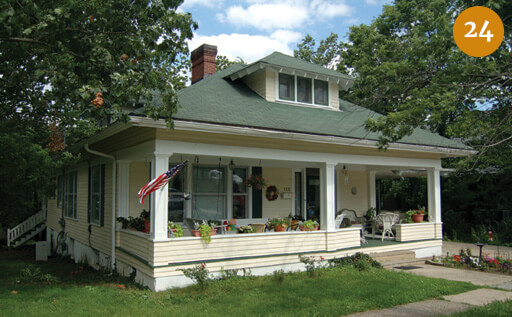 1921 Western Bungalow
In 1921, Charles Murray, a restaurateur, built this bungalow and it became the home of daughter, Catherine, who was an educator.
---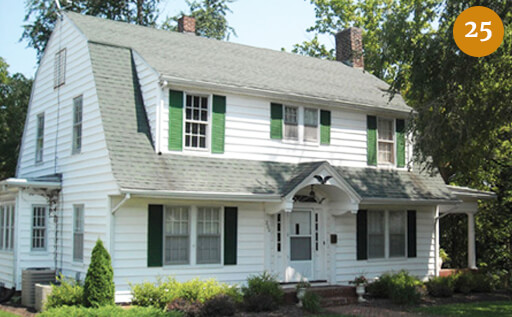 1920's Colonial Revival
Constructed in the 1920s for Blish and Elizabeth Monyhan, this is Paoli's only example of Colonial Revival style architecture. It is believed to be either a kit house or styled after one, for it is a twin of the Dutch Colonial Revival offered in Sears-Roebuck's Honor Bilt kit home advertisements during 1923.