Saving Historic Orange County
Our Mission
Saving Historic Orange County (SHOC) was founded in 2005 by a handful of local preservationists. The organization's mission is to create awareness and promote the preservation of historic sites and structures in Orange County. SHOC encourages saving the heritage of all Orange County citizens and serves as a voice to publicize and advocate the safe keeping of our historic sites and structures.
This website is a cooperative website with the Orange County Historical Society and Saving Historic Orange County.
Past Projects & Achievements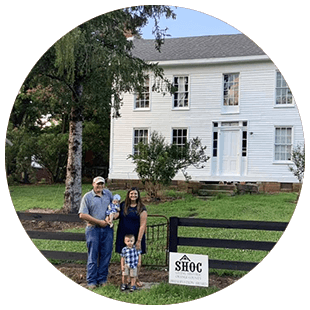 Each year, SHOC searches for an historic property which has been restored and rehabilitated. Owners are awarded SHOC'S Historic Preservation honor. A wealth of knowledge and assistance is available concerning historic properties and restoration through SHOC from Indiana Landmarks. SHOC has been an affiliate of Landmarks for nearly a decade.
Restoration Workshops
SHOC, following a commitment of historic preservation and protection, has offered Orange Countians opportunities to learn methods of restoration through workshops by professionals in wooden window repairs, tuck pointing and proper mortar mix for brick and stone, care of cemetery monuments and leaded glass windows. In addition, programs on architectural styles allow realtors to receive continuing education credits for attending.
Authentication of Dates for Historic Structures
Partnering with a college professor skilled in dendrochronology, SHOC has been able to authenticate the construction dates for several historic structures. Examples included the Lindley farmhouse, 1859, an unusual hay press barn, 1848, a Paoli log house, 1830 and home, 1817. A poplar log, hollowed out as a livestock trough, was dated as a seedling before Columbus visited America. SHOC was able to purchase the 10-foot trough, discovered in an 1850 Lindley-built barn, to protect it and donated it to the Historical Society's Lindley Farmhouse collection.
Restoration Grants
Over the years, SHOC has awarded grants to qualifying 501 (c) 3 organizations doing restoration work; urged state, county and town officials to follow historic preservation mandates; and annually recognizes a local restoration project by presenting the owner with the SHOC Preservation award in celebration of National Historic Preservation Month.
Restoration Project Funding
SHOC's attention is focused on more than historic buildings. Sites like the Buffalo Trace, mapped through the county by the US Forest Service, have been the theme of a public program. Attention is called to the historic Trace is by a road sign SHOC posted on SR 37 south of Paoli. When a local artist pointed out the need for cleaning and restoration of the Depression-era mural in Paoli Post, Office, SHOC raised funds then sought and received U.S. Postal Department's approval from Washington, D.C. to employ a Chicago art restoration team to bring the mural back to life.
Partnership with Indiana Landmarks
For many years, SHOC has had the good fortunate to partner with Indiana Landmarks, the largest historic preservation organization in the U.S. As an affiliate organization, preservation expertise is readily available. Modeling after Landmarks, SHOC members search the county each year for a preservation or restoration project and acknowledge the effort by presenting the owner with the Historic Preservation Award. Recipients have earned the award for restoring downtown homes, barns, commercial districts, rural homes and churches.
National Register of Historic Places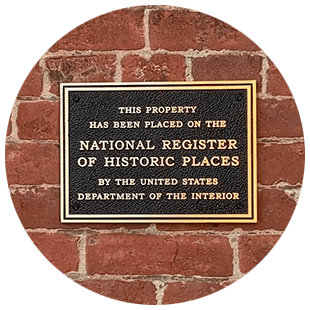 SHOC is offering the traditional cast brass plaques, which recognize National Register properties. They are for sale to qualified owners. For details or to place an order, email SHOC at: This email address is being protected from spambots. You need JavaScript enabled to view it.
Saving Historic Orange County has taken the lead to nominate and successfully list on the National Register of Historic Places a multi block area of historic downtown Orleans.
In addition, three individual historic properties have been nominated and achieved National Register status. Securing grants and raising fund are necessary in order to employ professionals, who research and write the National Register nominations.
National Register properties are afforded a bit of protection from federal and state projects which might endanger them. Also, National Register status puts the owner in line for possible state or federal tax credits for approved rehabilitation of the property.
Donations
Support in the form of donations is always welcome. Checks may be mailed to SHOC, 205 W. Water, Paoli IN 47454. In addition, SHOC has an endowment established at Orange County Community Foundation where contributions are not limited to cash. SHOC is a charitable 501 (c) 3 organization allowing contributions to be tax deductible.
Memberships
Annual dues are $20, individual; $30, couple; $200 individual Lifetime; $300 couple Lifetime; and $300 business or corporate. Donations are always welcome. Mail checks to membership chair: Brenda Cornwell, 205 W. Water, Paoli, IN 47454. Also, an endowment is established at Orange County Community Foundation, where donations allow funding for SHOC to exist in perpetuity.
Meetings
SHOC meets at 7:00pm in the Paoli Public Library on the second Tuesday of March, May, July, September and November.
Board sessions are called as needed.
Social Media

Contact
If you have questions or would like additional information please contact us via email at This email address is being protected from spambots. You need JavaScript enabled to view it.