Saving Historic Orange County
Our Mission
Saving Historic Orange County (SHOC) was founded in 2005 by a handful of local preservationists. The organization's mission is to create awareness and promote the preservation of historic sites and structures in Orange County. SHOC encourages saving the heritage of all Orange County citizens and serves as a voice to publicize and advocate the safe keeping of our historic sites.
This website is a cooperative website with the Orange County Historical Society and Saving Historic Orange County.
Past Projects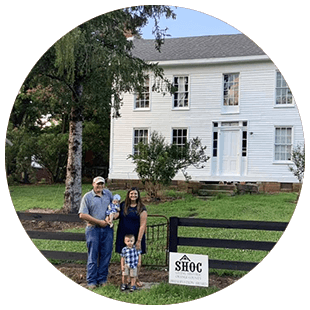 Each year, SHOC searches for an historic property which has been restored and rehabilitated. Owners are awarded SHOC'S Historic Preservation honor. A wealth of knowledge and assistance is available concerning historic properties and restoration through SHOC from Indiana Landmarks. SHOC has been an affiliate of Landmarks for nearly a decade.
National Register of Historic Places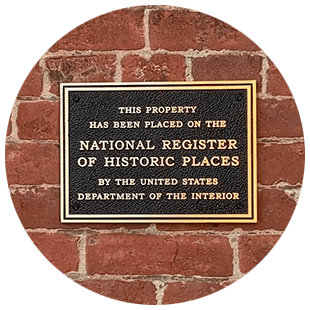 SHOC is offering the traditional cast brass plaques, which recognize National Register properties. They are for sale to qualified owners. For details or to place an order, email SHOC at: This email address is being protected from spambots. You need JavaScript enabled to view it.
Saving Historic Orange County has taken the lead to nominate and successfully list on the National Register of Historic Places a multi block area of historic downtown Orleans.
In addition, three individual historic properties have been nominated and achieved National Register status. Securing grants and raising fund are necessary in order to employ professionals, who research and write the National Register nominations.
National Register properties are afforded a bit of protection from federal and state projects which might endanger them. Also, National Register status puts the owner in line for possible state or federal tax credits for approved rehabilitation of the property.
Current Projects
Currently, Saving Historic Orange County is preparing to mark a site south of Paoli on SR 37 where the original Buffalo Trace is visible by car.
Donations
Support in the form of donations is always welcome. Checks may be mailed to SHOC c/o Mike Underwood, 205 N. Gospel St., Paoli, IN 47454. In addition, SHOC has an endowment established at Orange County Community Foundation where contributions are not limited to cash. SHOC is a charitable 501 (c) 3 organization allowing contributions to be tax deductible.
Memberships
Annual dues are $20 for an individual and $35 for a couple. Lifetime memberships are $200. Membership dues may be mailed to Treasurer Mike Underwood, 205 North Gospel, Paoli, IN 47454.
Meetings
SHOC MEMBERS meet at 7:00pm on the second Thursday of the month at the Paoli Public Library from March through November.
Board sessions are called as needed.
Social Media

Contact
If you have questions or would like additional information please contact us via email at This email address is being protected from spambots. You need JavaScript enabled to view it.